Inspire a Better Way to Work
Inspire Software allows employees, teams, and leaders to work together to build better relationships, align individual and company goals, and boost productivity – in one simple place.
Real Time Reporting and Dashboards
Keep your finger on the pulse of your organization. With an open API, you can integrate other business data you're tracking and accelerate your total results in real-time, from one place.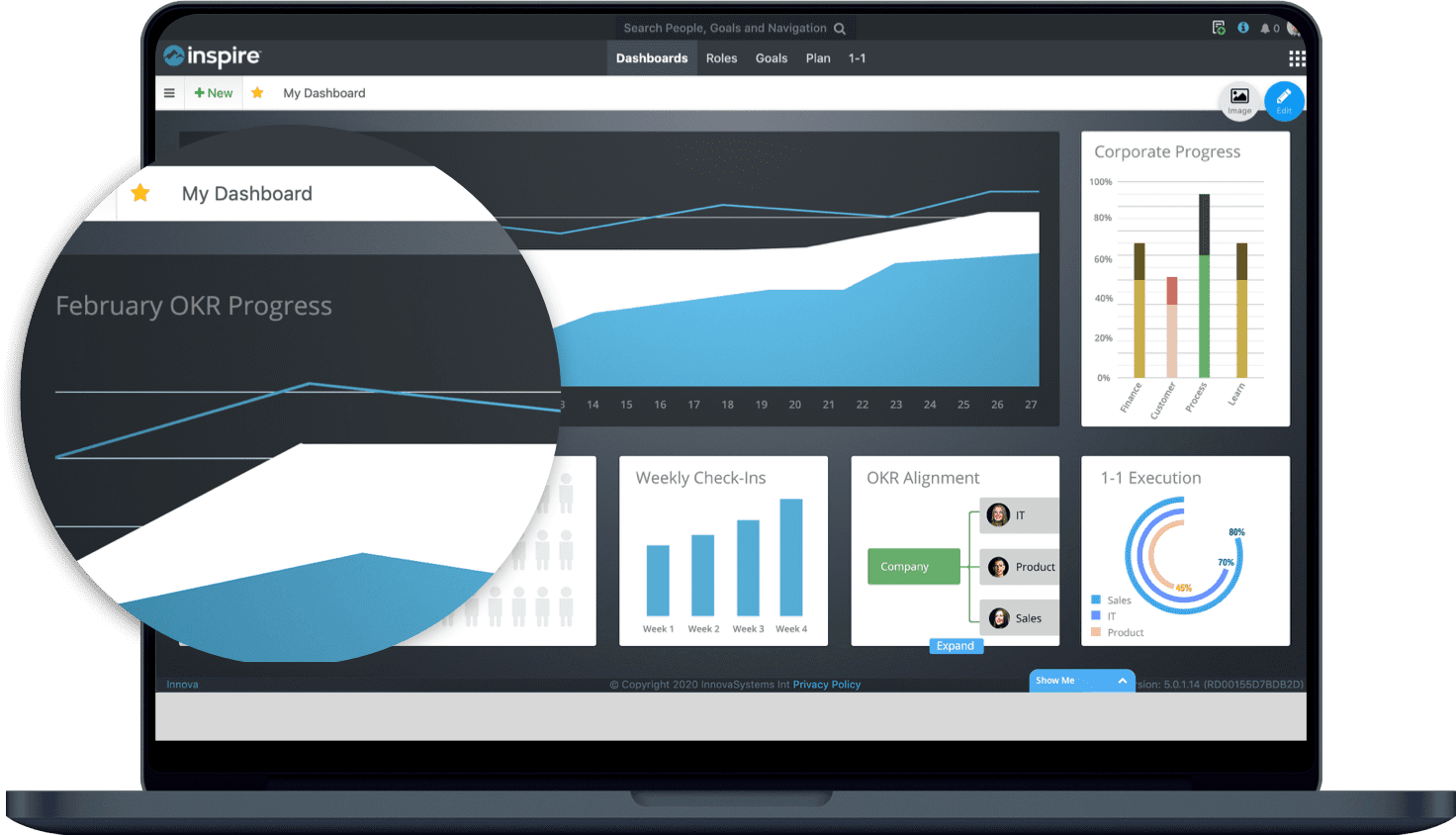 We picked Inspire Software because we wanted something comprehensive, not simplistic. We knew it was a solution that could grow with us.

Kevin White President, QMI

Inspire Software has bridged the gap between knowing what great leadership is and using it to influence greatness.

Ken Blanchard Author of Over 60 Best-Selling Business Books Including The One Minute Manager

Inspire combines all the best of every system I've been exposed to over my 30 years in business. By far the best time I have ever utilized.

Neal Littlejohn CRPC® Private Wealth Advisor Ameriprise Financial

Inspire has been a valuable partner in developing a results-oriented OKR integrated system within Sonendo.

Courtenay Jackson Director Program Management, Sonendo, Inc.

Inspire has been instrumental to our business. It helps me to keep my finger on the pulse of the culture in a more meaningful way.

Lynn Hutton CFO, InnovaSystems International

Inspire is a powerful platform that teaches effective leadership theories and allows leaders to practice those concepts through real work situations.

Dr. Drea Zigarmi CoAuthor of Achieve Leadership Genius, The Leader Within, Leadership and the One Minute Manager

Inspire has been an invaluable tool supporting CSA's leadership development and employee support initiatives.

Aaron Robbins Vice President, Talent Development, CSA

With Inspire you have at your fingertips perhaps the most comprehensive piece of software available in this field today.

Paul Niven Global OKR Coach, Strategy Execution Consultant & Author

Inspire is an amazing software tool that is essential to achieving and sustaining a meaningful and productive culture.

Susan Fowler Optimal Motivational Expert & Author